The Village District - Upper Bartlett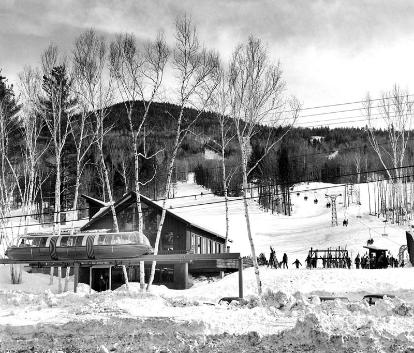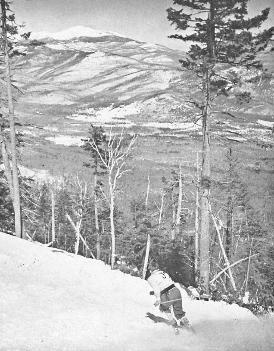 The Kearsarge Peg Company
was (and
continues to be) an integral part of the upper
Village. Here is a Chronological History of
The Kearsarge Shoe Peg Co., which I found
at White Mountain History.org
CLICK HERE

Want to know how the peg mill has adapted itself to changing times? Take a look at their website to see what they are doing today:

Here is the link.
>
Bartlett Village was also home to the

Honeywell Thermostat Factory
,
which was just over the tracks on the
east side of the Bear Notch Road. (Albany Avenue)

Long before Attitash, there were very popular ski runs on Bear Mountain. This photo 1941 looks north towards Mt Washington.The Village was also home to Stanton Slopes, with a rope tow. It operated in the 40's and 50's. It was located in the cleared area about in the center of this picture. For a very good article about all the bartlett Ski Businesses in the early days, go to
http://www.skimuseum.org

Attitash opened in January 1965, calling itself "the red carpet ski area" for its customer service focused on limiting lift lines by limiting ticket sales. In an quietly dropped by the end of the decade. Phil Robertson, perhaps recalling the success Cranmore had in developing an entirely new form of ski lift with its Skimobile, became an advocate for a cog monorail ski lift at Attitash. In early 1967, a full-size model was installed at the base, and the line of the track was eventually cut to the summit. "Reality set in" when construction planning started, recalled Thad Thorne, and the uncertain prospects of obtaining financing and Forest Service permission for the expensive, unproven experiment caused its quiet abandonment. Growth at Attitash continued with the summer Alpine Slide in the mid-1970s, the installation of
snowmaking after several snowless winters in the early 1980s, and the expansion to Bear Peak in the 1990s.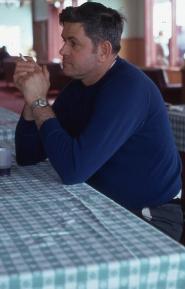 Lewis Mead, 1971 at Attitash. Lewis operated Mead Cabins in the late 1950's. Those who lived in town will remember his dad, Wilfred.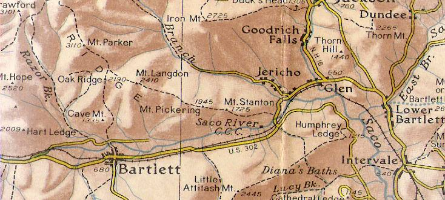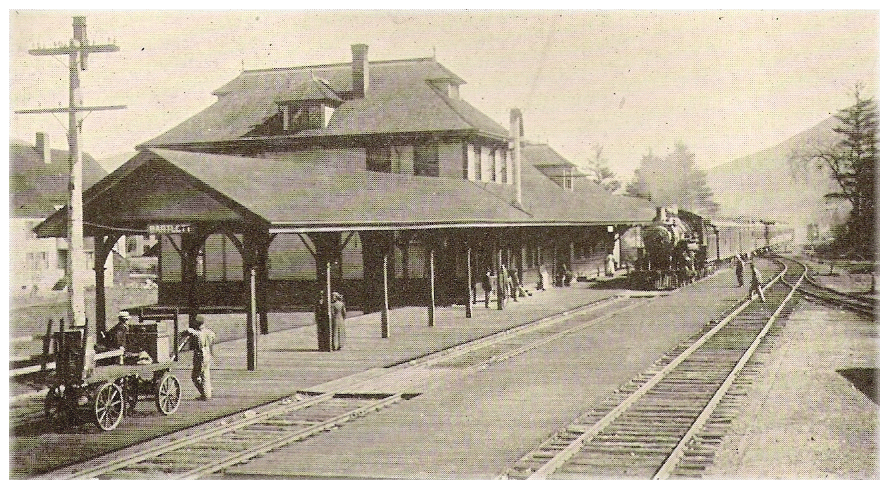 The Village was once dominated by the Railroad and most of the residents depended on it for their livelihood. The Village in those days had several restaurants, bars, a movie theatre, hotel and lodgings, a hardware store, several grocery stores and many other commercial activities. By contrast, it is a relatively peaceful village today.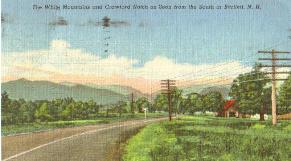 Rogers Crossing might be considered the entrance to The Upper Village area. Back in those days Harry Rogers use to graze milking cows in the fields from this point up to about where Sky Valley is today.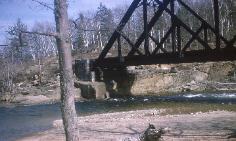 Anyone who grew up in Bartlett must surely remember the second iron swimming hole. If you were one of those who jumped off the very top of this trestle, tell us about it. Use the "contact us" link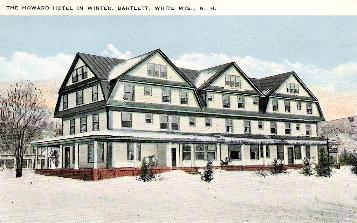 The Howard Hotel, Later named The Bartlett Hotel, was located in the center of
the Village. It burned and is now a town park.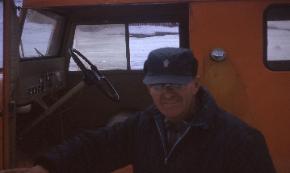 Everett Ward was a man of many talents. His daughter, Donna, lives in their family house on Main Street in the Village. Everett also owned the town dump, which
many will recallwas on the banks of the Saco River behind his house.




This picture was taken in the late sixties at
Attitash Ski Area by Dave Eliason.

DO YOU KNOW SOMEONE YOU WOULD LIKE TO SEE HERE ?
send the information to Dave using the "contact" link in the main menu